LUXE Plan is the ultimate luxurymicrobrand watch mystery box plan.
There. We said it.
With an ultra low Access/Styling fee of just $469, and low monthly membership of $99p/m (as low as $91 on annual plan), members on LUXE get to balance highest luxury quality with Microbrand passion, with up to $10,000 in watches worn and enjoyed in 12 months of membership.
Annual fees on LUXE can be as low as $1069 ($89p/m) for that access to wear and enjoy $10k in upper-level microbrand timepieces, as well as those from established Swiss brands like Oris, Alpina, Zodiac and many more. See our pricing table below to compare monthly vs annual plans (use code "ANNUAL" for 10% off).
HOW DOES LUXE STACK UP AS A MYSTERY WATCH PLAN?
Compare to Watch Gang "Platinum Plan" ($3600 per annum monthly membership for avg watch value of approx $2880) vs. $1657 year one LUXE for $8000-$10000 value, as an example. The watches we provide for members are not only an enviable jump UP in quality and style, but they are even more of a jump up in value and experience and you will never be "stuck" with a watch if you wish to move on from it.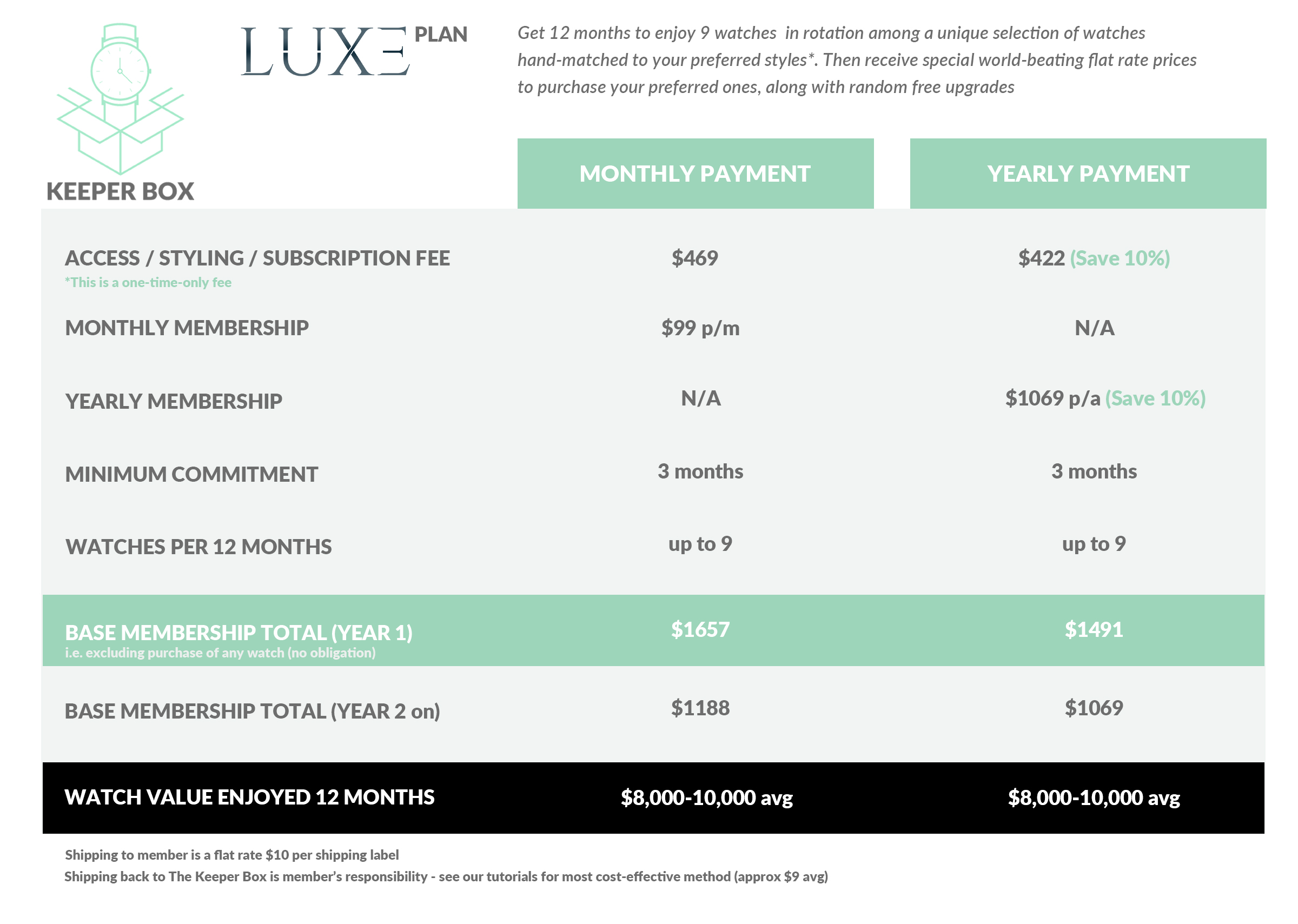 WHAT DOES LUXE BRING TO THE TABLE?
1. We view LUXE Plan as the perfect balance of value and quality from established and microbrand watches, like those attached below. Put it this way, month 1 you will receive a watch that has an avg MSRP of $800-1000, and you'll only have paid $568.00 (10% less if you pay annually), and from there each watch averages just $99 for access to wear and enjoy on your monthly membership plan.
2. There is no obligation to buy any watch on LUXE Plan. Seriously. If you're the type of collector who just wants to experience a ton of watches for as low as $89 per month, LUXE is the IDEAL buy-in for that access. 
3. If you receive a watch you cannot live without, you have the simple one-time, all-time-low flat rate purchase link for just $469! This flat rate includes any free upgrades you may receive, as shown in the "year in the life" infographic below.
LUXE is therefore the ultimate luxury mystery watch plan, and we say this with absolute certainty... EVER.
JOIN LUXE PLAN & START COLLECTING
WHAT DOES AN AVERAGE YEAR MEMBERSHIP LOOK LIKE?
We believe you'll agree, when you couple the exceptional value in LUXE watches, alongside the prospect of random upgrades to add excitement and enjoyment, as well as the low flat rate purchase fee of just $469, you'll find an experience like no other watch club, with a wonderful surprise at every turn.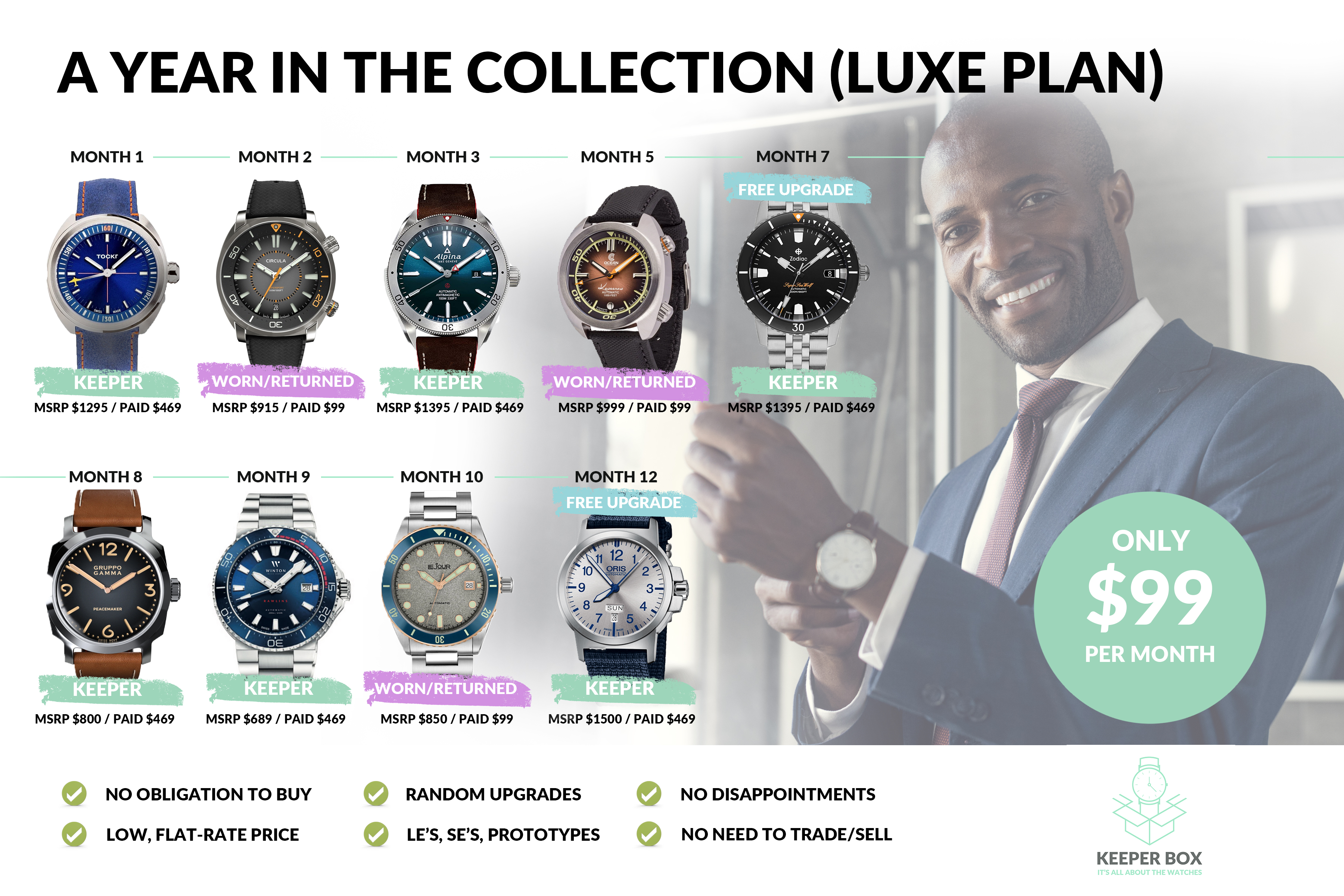 So the question is...
Why on EARTH would you be waiting to take the plunge. You've seen the watches (just a tiny sampling of the LUXE rotation) and you've seen the value.
Try it today ------>