Good news, international members!
We have, this afternoon, launched our BETA for international members in Canada, United Kingdom, Australia, New Zealand, and select EU countries (Ireland, Italy, Germany, France and Spain).
This is a BETA. We are trialing the cost-effectiveness of international ship-backs and watch values for members as well as shipping back and forth logistics. We reserve the right to adjust processes based on the feedback we receive from you guys, who are participating.  
HOW DOES IT WORK?
✅ Select your plan. Each has a minimum commitment of 3 months. You can pay annually upfront with a 10% discount using code "ANNUAL"
✅ Receive up to 9 watches per 12 months membership - this allows flexibility for you to take time to enjoy the watches you receive and also to mull over watches you maybe want to enjoy more, or take a little consideration period in case it is a keeper. In this way you can control how long you keep each watch, without being rushed to make a decision.
There are 3 plans open to you and within each, 3 payments you will consider (the third of which, the purchase fee, is ENTIRELY optional). All prices below are in USD.
✅ EXEC Plan is US$69 per month after an initial Style/Access/Security fee of $279 (One time) - Watch values are avg $400-500 MSRP. Flat rate purchase price for any watches we send you that are "keepers" is $279.
✅ LUXE Plan is US$99 per month after an initial Style/Access/Security fee of $469 (one time) - Watch values are avg $750-1400 MSRP. Flat rate purchase price for any watches we send you that are "keepers" is $469.
✅ LUXE+ Plan is US$179 per month after an initial Style/Access/Security fee of $899 (one time) - Watch values are avg $1400-2400 MSRP. Flat rate purchase price for any watches we send you that are keepers, is $899. 
✅ Members should receive at least 1 upgrade piece in each plan, per 12 month membership. As an example, on LUXE Plan (our most popular), we have sent out Tag Heuers, Longines, Christopher Ward GMT's and top level Ocean Crawlers and Alpinas worth $1250-1800, and the member can then snap those up for just US$469! 🥳
INTERNATIONAL OPTIONS
On the site there is now a currency and language option, as below, if you prefer to work this way. See top right of checkout screen.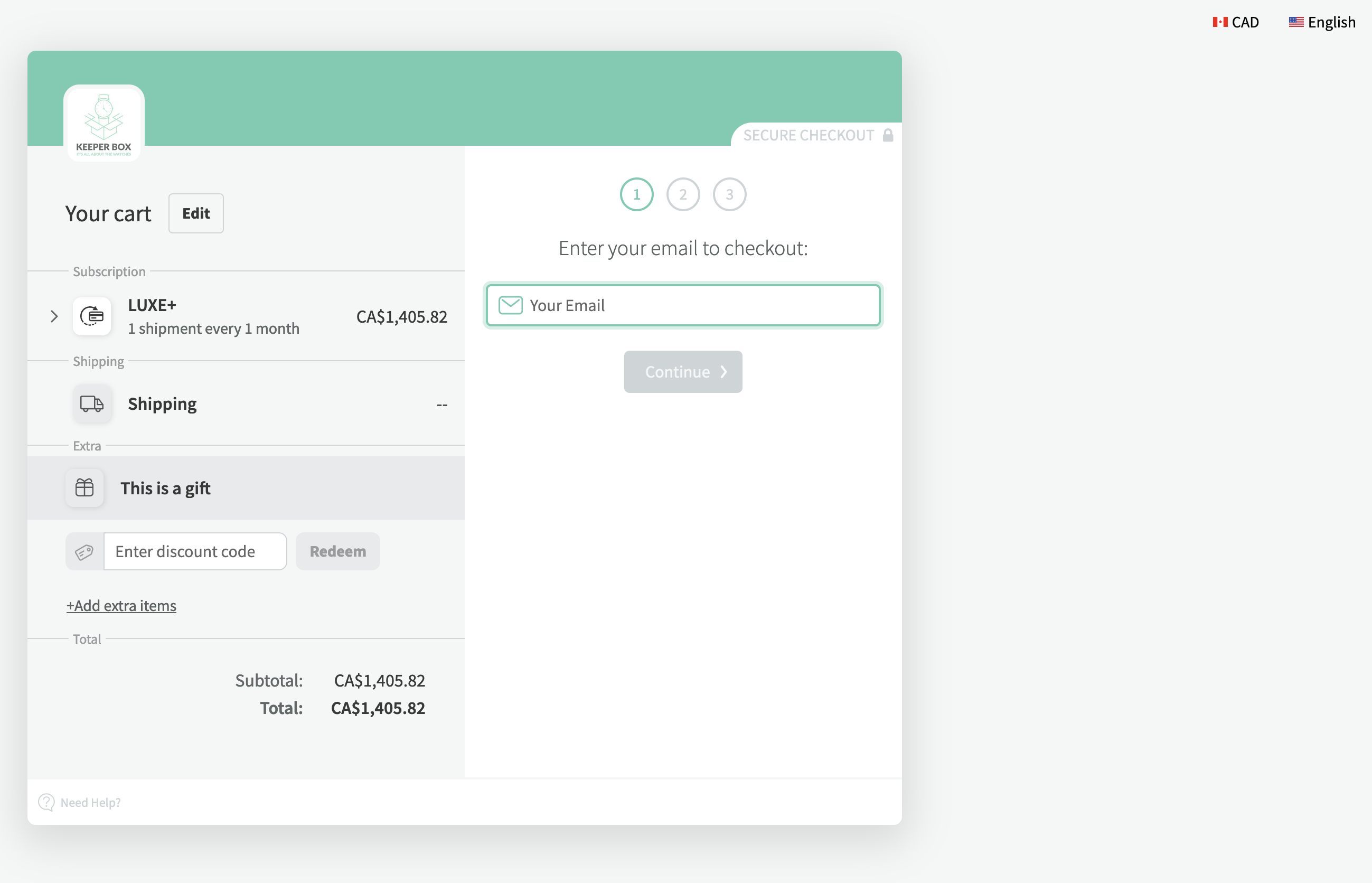 IMPORT & DUTIES
Please note you will be billed a NET figure on your membership. Import fees and any local sales tax or VAT is your responsibility as member. 
As you are not buying watches, we will be valuing the customs forms as a sample for return. When you decide to purchase a watch, this is where the BETA comes into play. We may need to provide you an invoice for the amount paid and you can present this to your local import. When you return the watches, please value them $400 and insure them, or be aware that if they are damaged or lost, you will be liable for the flat rate fee associated with your plan, to replace them (e.g. $279 on EXEC, $469 on LUXE and $899 on LUXE+)
The alternative option, which you are free to use, is that you select a freight forwarder in the US, and add them as your address in your Keeper Box account. We strongly recommend you utilize this service type for ease. Cost to you is fairly minimal but it means your shipping out from us is lower at $15 (US addresses) vs $49. The forwarding service then ships for as little as $10. Click below to investigate your options.
TOP FREIGHT FORWARDING SERVICES
*Please note, any bills by selected services from mail/freight forwarders are the responsibility of the member.
SHIPPING WINDOWS & MEMBER REQUIREMENTS
In attempts to streamline operation and allow members to be clearly aware of the requirements, we have initiated a SINGLE SHIPPING WINDOW, each month. Labels are raised between the 1st through 7th of each month, and watches leave our offices between the 7th and 13th of each month, on average.
All packages will be shipped by UPS Ground (US) or UPS Expedited International (WW). We have seen these packages shipped in our other company, Timepiece Monthly, and arrive within 4-5 days on occasion, in Canada, the UK and EU. Please allow some time if you are in a remote area or further afield, e.g. New Zealand or Australia. 
Shipping times are beyond our control, but we have found UPS to be the most affordable, reliable and swift international delivery option.
RETURNS
Returns from members to The Keeper Box LLC, should be received by the final day of a month, which precedes the opening of the next ship window, in order to receive a watch within that ship window. For example, if your last watch was enjoyed and worn but is not a "keeper", return it to us by 30th June, to be in line for your next watch in early-to-mid July. If your watch arrives on the 3rd July, your next watch will ship in August's shipping window.
For all other FAQ's (e.g. how we grade watch condition, your responsibilities as a member etc.), please visit our FAQ page here.
Outside of that, please click below to choose your plan and for those of you who join our international Beta, we will be offering a $50 coupon off your first watch purchase with us! Use code "BETA" when you purchase your first watch. 
Thanks for reading and please let us know if you have any questions!
Alex
Alex Fleck
Founder & CEO